Tri Tip Steak Smoked to Perfection
You want to be the king or queen of your backyard BBQ, and nothing says power like smoked tri tip steak to perfection. Tri tip is a flavorful and tender cut of beef that can take your grilling game to the next level. But how do you achieve that perfect smoky flavor and juicy texture? Don't worry; we've got you covered with our step-by-step guide on how to smoke a tri tip steak like a pro.
First, let's start with the basics. Tri-tip comes from the bottom sirloin area of the cow and is triangular in shape, hence its name. It's a popular cut in California but has gained popularity across the country due to its versatility and delicious taste.
To truly showcase its flavour, smoking is one of the best methods of cooking tri-tip. With our tips and tricks, you'll be able to impress your guests with this mouth-watering dish that will have them begging for seconds (and thirds).
So get ready to flex your grilling skills and become the ultimate ruler of your backyard BBQ kingdom!
What is tri-tip steak smoked?
You're about to discover the secret behind a succulent, mouth-watering cut of beef that's popular in Western America: tri-tip steak. This triangle-shaped roast is a flavorful and juicy steak that can be smoked to perfection. Most tri tips weigh around 2-3 pounds, making it the ideal size for smoking.
To achieve the perfect smoked tri tip, you need to follow three essential steps: seasoning, smoking, and searing. A great seasoning combination for tri tip includes kosher salt, fresh ground black pepper, and garlic powder. You can smoke this delicious cut of meat on any kind of smoker that can maintain a temperature of 225 degrees F.
As it slowly rises in temperature during smoking, it creates an even cook, which results in a perfectly cooked piece of meat. Finally, sear your smoked tri-tip over high heat to lock in all of the juices and get a gorgeous crust on the exterior of the meat.
Plan up to two hours for smoking your tri-tip steak plus an additional five to six minutes for searing and fifteen minutes rest time for a medium-rare steak. Remember to use an internal thermometer throughout the cooking process to ensure your meat is cooked just right!
Seasoning and Rubs
In this section, we'll explore seasoning options and rubs that can elevate the flavour of your smoked tri-tip steak. Did you know that using a binder before applying a dry rub can increase the amount of seasoning that sticks to the meat by up to 50%?
A binder such as mustard, olive oil, or Worcestershire sauce not only helps the seasoning adhere but also adds an additional layer of flavour.
When it comes to seasoning and rubs for your smoked tri-tip steak, there are endless possibilities. You can use store-bought spice blends or create your own custom mix with ingredients like garlic powder, onion powder, paprika, chilli powder, cumin, and brown sugar.
Some people even add coffee grounds or cocoa powder for a unique twist. Whatever you choose, make sure to apply it generously on all sides of the meat before smoking for maximum flavour infusion.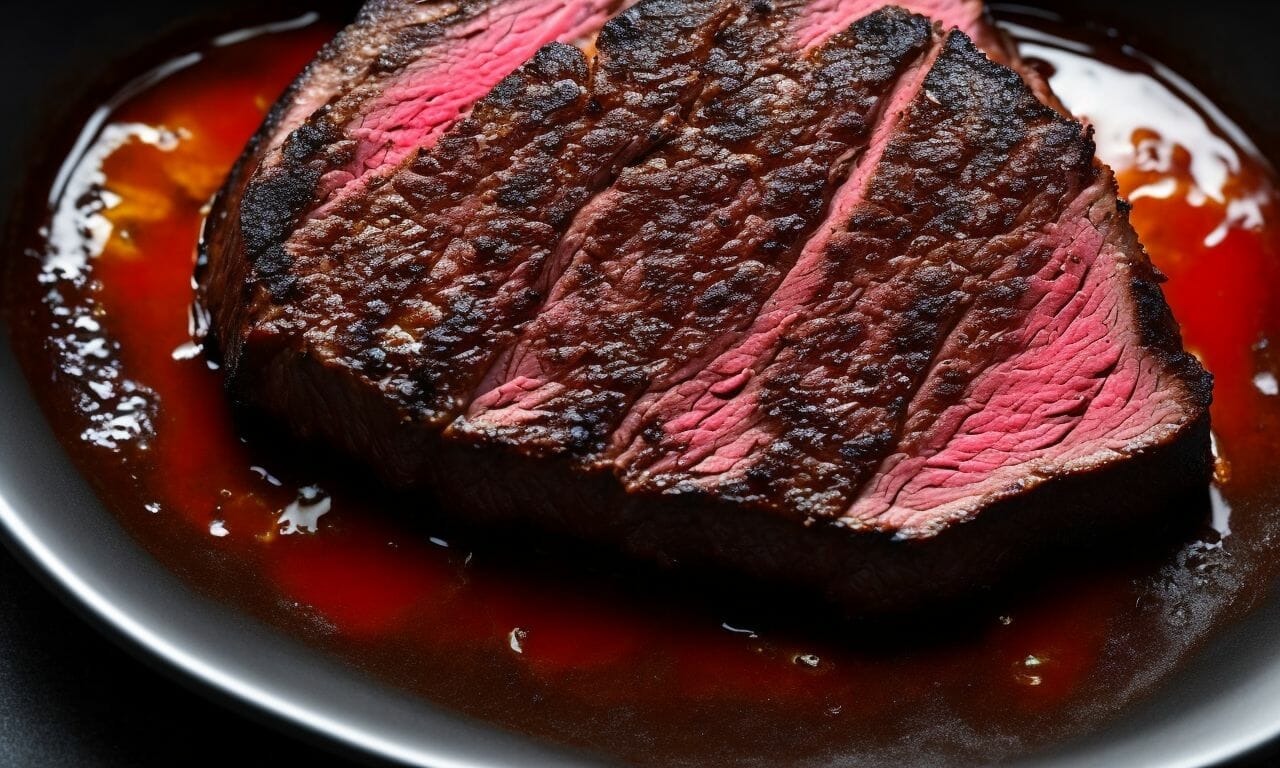 Smoking and Searing
Now it's time to take your tri-tip steak to the next level by infusing it with smoky flavour and a delicious crust through smoking and searing.
Start by prepping your smoker or grill with wood chips such as oak, alder, or mesquite. Apply your favourite seasoning or rub, making sure to cover the entire surface of the meat.
Place the tri-tip on indirect heat in the smoker or grill for approximately 2 hours until it reaches an internal temperature of 130-135°F for medium-rare.
Once done, transfer the tri-tip to a hot cast iron skillet with butter and sear each side for about 1 minute until a nice crust forms.
Resting the tri-tip for about 10 minutes allows juices to redistribute throughout the meat before slicing against the grain, ensuring tenderness.
With these simple steps, you can elevate your tri-tip steak into a flavorful and succulent dish that will impress any crowd.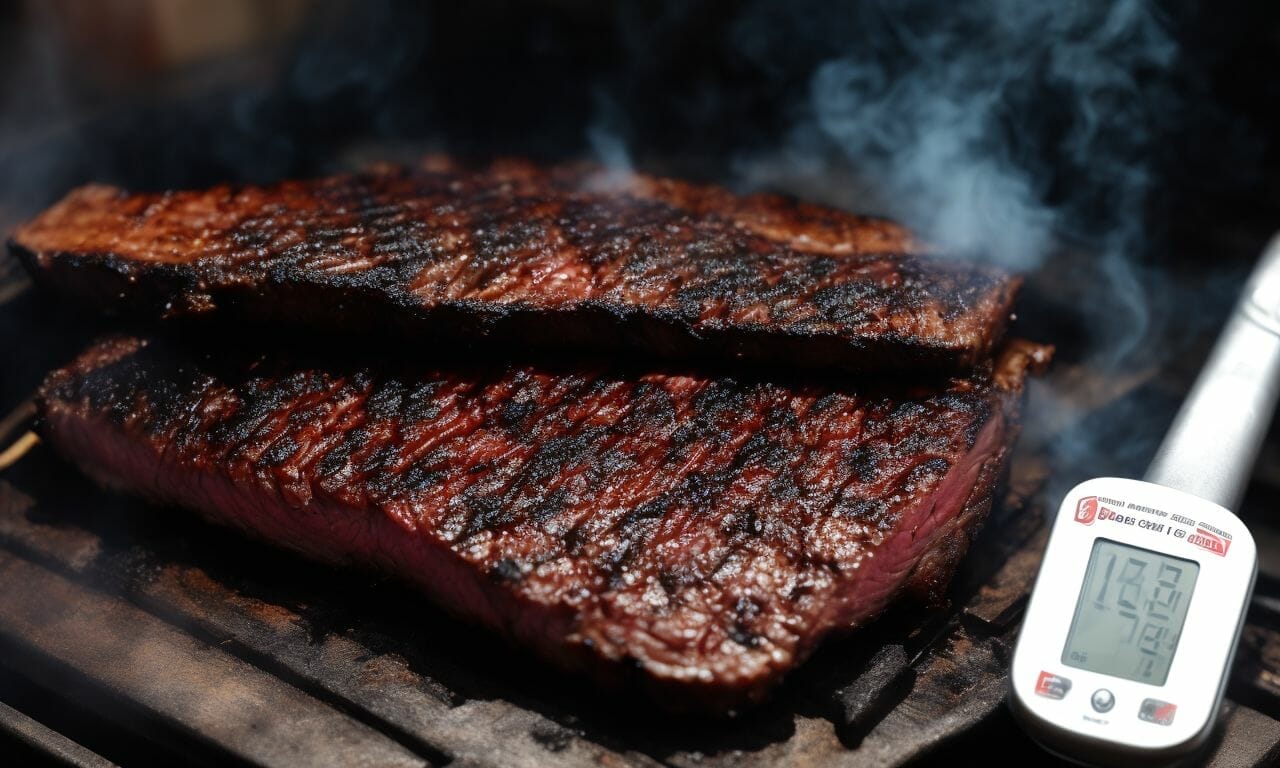 Temperature and Time
To get the most flavour from your cut of beef, keep in mind that marbling is key and be sure to preheat your smoker to 225 degrees using fruit wood like apple or oak.
Once you've covered your tri-tip in olive oil and sprinkled salt and pepper over it, place it on the smoker unwrapped for 60-90 minutes. It's important to monitor the internal temperature of your meat with a meat thermometer, aiming for a rare temperature of 125-130 degrees F.
Once it reaches this temperature, wrap the tri-tip in foil and let it rest for at least 15 minutes. This allows the juices to redistribute throughout the meat and ensures maximum tenderness.
If you want to keep your tri-tip warm while waiting for guests or preparing sides, place it in a small cooler for up to two hours.
With these tips in mind, you'll have perfectly smoked tri-tip every time!
Tools and Resources
Don't miss out on the essential tools and resources you need to elevate your BBQ game with this guide to smoking tri-tip steak.
To start, you'll need a smoker or grill that can maintain a consistent temperature of 225°F for several hours. The Traeger grill is a popular option for smoking tri-tip, but any smoker or grill that meets this requirement will do the job.
You'll also need a reliable meat thermometer to ensure your roast reaches the proper internal temperature for your desired level of doneness.
In addition to these basic tools, it's helpful to have a few accessories on hand when smoking tri-tip steak. A good set of tongs and heat-resistant gloves will make it easier to handle hot meat and adjust your smoker as needed. A drip pan placed beneath the roast can catch any drippings and prevent flare-ups in your smoker.
And if you're looking for inspiration or guidance, there are plenty of online resources available, such as forums dedicated to BBQ enthusiasts and YouTube channels with step-by-step tutorials on how to smoke tri-tip steak like a pro. With these tools and resources at your disposal, you'll be well-equipped to create an unforgettable smoked tri-tip experience for yourself and your guests.
Sides and Pairings
Looking for the perfect side dish to pair with your tender, flavorful smoked tri-tip? What about trying some dill potato salad or grilled vegetables to complement the savoury flavours of the meat?
These sides are not only delicious, but they also add a refreshing touch to balance out the richness of the beef.
For an easy and creamy potato salad, mix boiled potatoes with mayonnaise, sour cream, chopped fresh dill, and a splash of white wine vinegar. Serve chilled alongside your tri-tip steak for a classic summer BBQ combination.
Alternatively, grill up some bell peppers, zucchini, and eggplant drizzled with olive oil and seasoned with salt and pepper for a healthy addition to your meal. The smoky charred flavour of the vegetables will pair perfectly with the smokiness of your smoked tri-tip.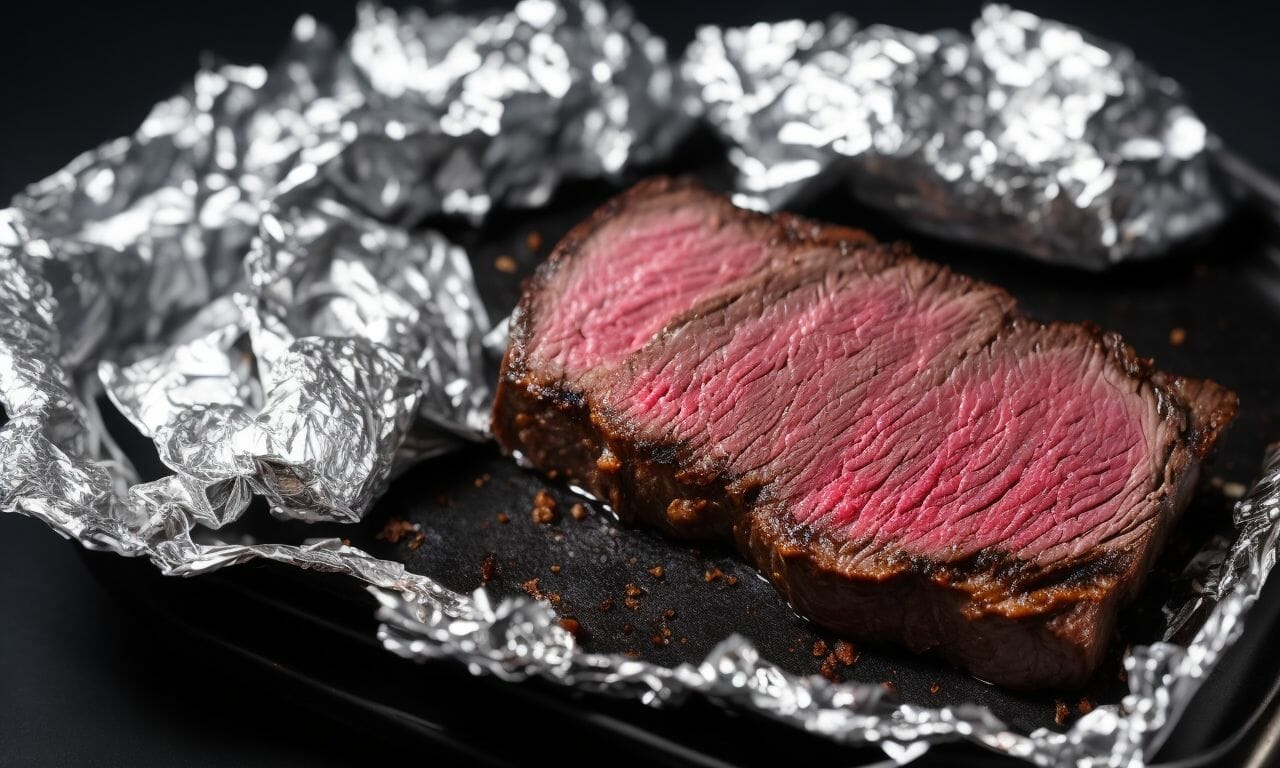 Leftovers and Storage
If you want to savour the flavours of your smoked tri-tip for more than one meal, be sure to store any leftovers properly in an airtight container in the fridge. This will help preserve the juicy goodness and keep it fresh for several days.
When reheating, make sure to do it slowly and over low heat to prevent drying out the meat.
To maximize your leftovers, consider incorporating them into other dishes. You can slice up leftover tri-tip and add it to salads or sandwiches for a quick lunch option. Or use it as a protein source in stir-fries or pasta dishes for dinner.
The possibilities are endless when it comes to repurposing your smoked tri-tip steak! Just remember to store any unused portions properly so that you can enjoy their deliciousness again and again.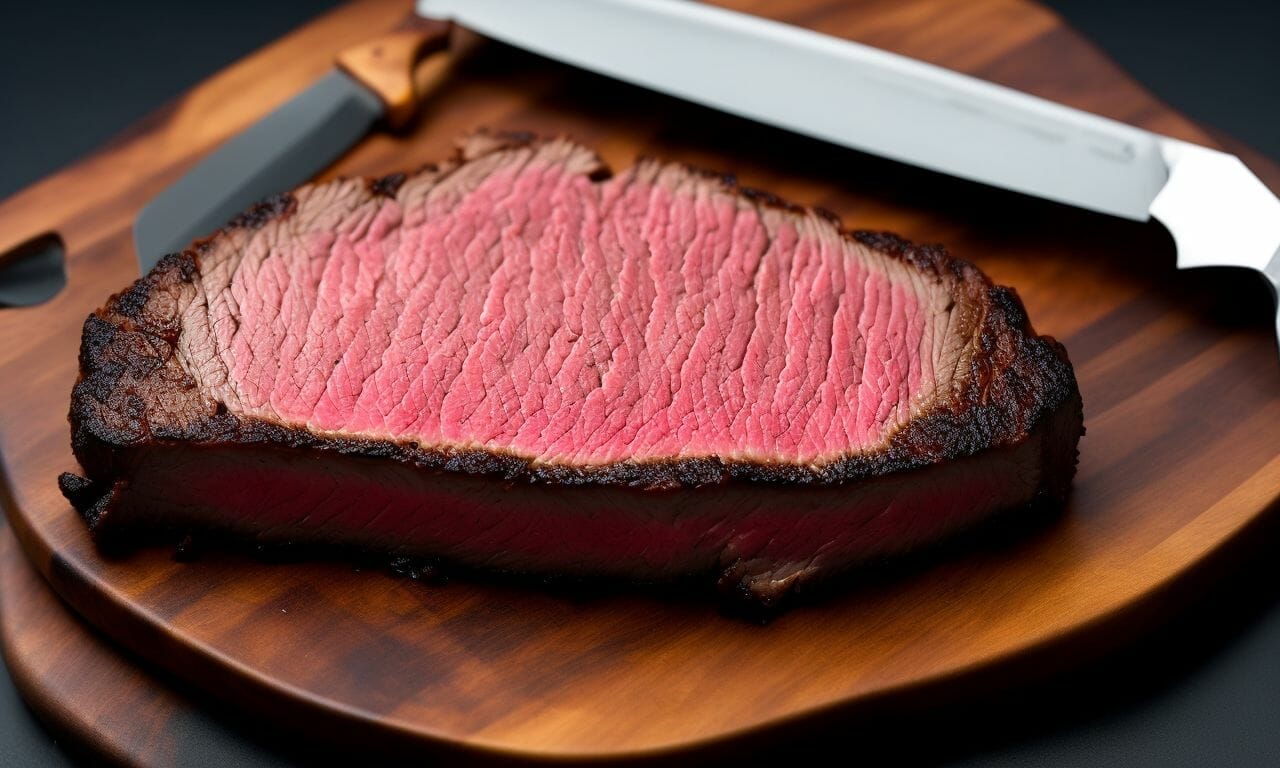 Expert Tips and Tricks
In this section, we'll share some expert tips and tricks for taking your tri-tip steak smoked to perfection. Did you know that there's one technique that can make all the difference in flavour? It's called the reverse sear method, where you smoke the steak first and then sear it at the end. This creates a juicy and tender inside with a crispy exterior.
Here are three more tips to elevate your tri-tip game:
With these expert tips and tricks, you'll be able to impress your guests with a perfectly cooked tri tip steak every time!
Frequently Asked Questions
What are some common mistakes to avoid when smoking Tri Tip steak?
When it comes to smoking tri tip steak, there are some common mistakes that you'll want to avoid.

First off, make sure you're using the right kind of wood for smoking – mesquite and hickory are both popular choices for beef.

Another mistake people often make is not properly seasoning their meat before smoking it. Don't be afraid to use a generous amount of salt and pepper, or even a dry rub, to give your steak plenty of flavor.
Finally, don't rush the cooking process – smoking takes time and patience, so be prepared to let your tri tip sit in the smoker for several hours until it's fully cooked and tender.

By avoiding these common mistakes, you'll be well on your way to producing a deliciously smoked tri tip steak that will impress even the most discerning carnivores.
Can Tri Tip be cooked using other methods besides smoking?
If you're looking to switch up your cooking methods for tri tip steak, there are many options available. Grilling is a popular choice that can produce delicious and flavorful results. Using a cast iron skillet or oven roasting are other great alternatives that allow for more control over the temperature and can help achieve your desired level of doneness.

However, it's important to keep in mind that each method may require different techniques and cooking times, so be sure to do your research before trying something new. With some experimentation and practice, you'll find the perfect cooking method for your tri tip steak that will impress even the most discerning eaters.
How do I know if my Tri Tip steak is done and ready to be served?
To ensure that your tri tip steak is done and ready to be served, you'll want to use a meat thermometer.

Insert the thermometer into the thickest part of the steak, being careful not to touch any bone or fat.

For medium-rare, the internal temperature should be around 135°F; for medium, it should be around 145°F.

Once you've reached your desired temperature, remove the steak from heat and let it rest for about five minutes before slicing against the grain.

This will allow the juices to redistribute throughout the meat for optimal flavor and tenderness.

Whether you decide to smoke your tri tip or cook it using another method, these tips will ensure that your finished product is perfectly cooked every time!
What are some recommended wine pairings for Tri Tip Steak?
When it comes to pairing wine with steak, there are a few options that work especially well. For tri tip steak, you might consider a bold red wine like Cabernet Sauvignon or Merlot. These wines have strong tannins that complement the rich flavors of the meat and help to cut through its fat content.

Another option is Malbec, which has a slightly fruity flavor that can bring out some of the more subtle notes in the steak. If you prefer something lighter, Pinot Noir is also a great choice, as it has a softer flavor profile and pairs well with many different types of food.

Ultimately, the key is to choose a wine that complements rather than overwhelms the flavors of your meal.
Is it okay to marinate Tri Tip steak overnight before smoking it?
If you're planning to smoke a tri tip steak, marinating it overnight is definitely okay. In fact, it's highly recommended as this will help infuse the meat with flavour and tenderness.

When choosing a marinade, pick one that complements the natural taste of beef without overpowering it. A good mix usually includes acid (like vinegar or citrus), oil, spices, and herbs.

Leave your steak covered in the fridge for at least 8 hours or up to 24 hours for maximum effect. Once marinated, take out your steak from the fridge about an hour before smoking to bring it back to room temperature.

Smoking time can vary depending on your smoker's temperature and how well done you like your steak, but generally takes around 2-3 hours using indirect heat until it reaches an internal temperature of 135°F for medium-rare or 145°F for medium doneness.

With a perfectly smoked tri-tip steak marinated overnight, you'll surely impress everyone's taste buds with its bold flavors and juicy texture!
Conclusion
Congratulations! You've successfully smoked a tri-tip steak to perfection. As you take your first bite, savor the juicy and tender meat that's been infused with delicious smoky flavor.
This meal not only satisfies your taste buds but also represents the hard work and dedication you put into perfecting this recipe. As you enjoy your meal, think about the symbolism of the tri-tip cut.
Just like this steak, life can be tough and require patience and persistence to achieve success. By taking on this challenge, you've proven that you're capable of overcoming obstacles and achieving greatness in all aspects of life.
So next time you're looking for a flavorful and impressive dish to serve at a special occasion or just for a weeknight dinner, remember the lessons learned from smoking a tri-tip steak: seasoning well, monitoring temperature carefully, and most importantly, never giving up until it's done to perfection.