The Charcoal Grill: A Classic Cooking Experience With A Smoky Flavor
Are you looking for a classic cooking experience with a smoky flavor that will transport you back to simpler times? Look no further than the charcoal grill.
Cooking on a charcoal grill offers unique advantages over other methods, including the ability to infuse your food with a rich, smoky flavor that can't be replicated on gas or electric grills.
Not only does using a charcoal grill allow you to take part in the timeless tradition of outdoor cooking, but it also gives you greater control over the temperature and allows for more even heating.
Plus, there's something special about tending to the coals and watching as they turn from blackened lumps into glowing embers ready to cook your meal.
In this article, we'll explore everything you need to know about cooking on a charcoal grill, from selecting the right equipment and tools to lighting and maintaining your grill.
So fire up those coals and get ready for an unforgettable culinary adventure!
Advantages of Cooking on a Charcoal Grill
Nothing beats the feeling of sinking your teeth into perfectly cooked food with a hint of wood-fired magic. And when it comes to achieving that flavor profile, there's no better way than cooking on a charcoal grill.
The benefits are plenty: first and foremost, that smoky taste you can't achieve with gas or electric grills. And let's be honest, isn't that what we're all after? But the flavor profile is just one of many advantages to cooking on a charcoal grill.
Charcoal grills also have the ability to reach higher temperatures than their gas counterparts, allowing for better searing and caramelization of meats and vegetables. Plus, they're more affordable and portable than fancy gas grills, making them accessible for everyone who wants to experience the joys of outdoor grilling.
So why settle for anything less than perfectly cooked food with a smoky flavor? Get yourself a charcoal grill and start enjoying the classic cooking experience today!
Types of Charcoal Grills
When it comes to choosing a charcoal grill, you've got plenty of options. If you're looking for something portable and easy to take with you on camping trips or tailgating parties, a portable model might be the best choice for you.
On the other hand, if you're planning on hosting big backyard barbecues and want to cook multiple items at once, a large multi-tiered design would be perfect.
And don't forget about fuel options! From traditional charcoal to briquettes and even hardwood chunks, there are plenty of ways to get that delicious smoky flavor on your food.
Portable Models
If you're always on the go and want to enjoy that outdoor cooking vibe, then portable models are your bread and butter. These grills offer the ultimate in portable convenience with their compact designs, making them perfect for camping trips or tailgating parties. But don't let their small size fool you. They can still deliver that smoky flavor that's synonymous with charcoal grilling.
Here are three reasons why portable charcoal grills should be on your must-have list:
They're lightweight and easy to carry around, making them ideal for taking on hikes or picnics.

Their compact design means they take up minimal space in your car trunk or storage area.

Despite their small size, these grills can cook a surprising amount of food at once, so you won't have to compromise on meal portions when out and about.
So if you want to bring that classic charcoal grill experience with you wherever you go, look no further than a portable model!
Large Multi-Tiered Designs
Get ready to elevate your outdoor cooking game with large multi-tiered designs that offer multiple levels of grilling space and a variety of cooking options. These charcoal grills are perfect for those who love to entertain or cook for larger groups.
With multiple layers, you have the ability to cook different types of food at varying temperatures all at once. One major advantage of multi-level grilling is temperature control. You can easily adjust the heat on each level to ensure that everything is cooked perfectly.
This means no more overcooked or undercooked food! Additionally, these grills often come equipped with features such as adjustable vents and dampers, allowing you to control the airflow and maintain precise temperatures throughout the cooking process.
So why settle for a single-level grill when you can take your outdoor cooking experience to new heights with a large multi-tiered design?
Fuel Options
You have a multitude of options to choose from when it comes to fueling your outdoor charcoal grill setup. Charcoal is the most popular choice, with its smoky flavor and versatility in both lump and briquette form. The pros of using charcoal include a rich, smoky flavor that can't be replicated with gas grills, as well as the ability to reach high temperatures for searing and cooking large cuts of meat. However, the cons include longer prep time due to waiting for coals to heat up and the need for frequent refills during long grilling sessions.
Another option is wood pellets or chips, which add a distinct flavor profile depending on the type of wood used. Availability and cost vary depending on the location and type of wood chosen. Wood pellets or chips are generally more expensive than traditional charcoal but offer unique flavors such as hickory or mesquite. They also require less prep time since they ignite quickly but may require additional accessories like smoking boxes to contain them during cooking.
Tools and Equipment Needed
Ready to create a delicious meal? The tools and equipment you'll need are key to achieving that perfect sear.
When it comes to charcoal grilling, having the right tools can make all the difference. A basic set of tongs, a spatula, and a grill brush should be on hand for every grilling session. But don't forget about other essential items such as a chimney starter for easy lighting of your charcoal, heat-resistant gloves for safe handling of hot surfaces, and a meat thermometer to ensure your food is cooked to perfection.
In addition to having the right tools, proper maintenance of your grill is crucial for ensuring a successful grilling experience. Before each use, make sure your grill is clean by using an appropriate cleaning technique, such as brushing off any debris or using warm soapy water on the grates.
It's also important to regularly check and replace any worn or damaged parts, such as the grate or ash pan. By taking care of your grill and having the necessary tools at hand, you'll be able to enjoy that classic smoky flavor in no time!
Lighting the Charcoal
When it comes to lighting the charcoal on your grill, there are a few key methods you can use. The first and most popular is using a chimney starter, which allows for easy and even lighting of the coals.
Alternatively, you can use lighter fluid, but be sure to follow safety precautions to avoid any accidents. No matter which method you choose, make sure to take your time and do it right for the best grilling results.
Using a Chimney Starter
Get that fire going with a chimney starter, and let the excitement of grilling kick in! Not only is using a chimney starter an efficient way to ignite charcoal, it also ensures even heat distribution throughout the grill. The benefits of using a chimney starter are many; you'll avoid harmful lighter fluid fumes and also save yourself time by not having to wait for coals to catch fire.
Before lighting your charcoal, it's important to master some basic charcoal grilling techniques. First, make sure your grill is clean and oiled before adding any food.
Next, arrange your coals for direct or indirect heat, depending on what you're cooking. Direct heat works best for smaller items like burgers and hot dogs, while indirect heat is ideal for larger cuts of meat like pork shoulder or brisket.
Using Lighter Fluid
Using lighter fluid may seem like an easy shortcut to starting your fire, but beware of the potential health risks and unpleasant taste it can add to your food. Not only can the chemicals in lighter fluid be harmful if ingested or inhaled, but they also leave a distinct chemical taste on your food that can linger long after grilling. Don't compromise on safety or flavor – try alternative fuels like natural lump charcoal or hardwood chunks for a more enjoyable grilling experience.
Avoiding lighter fluid doesn't mean sacrificing convenience. In fact, there are many alternative methods for lighting your charcoal quickly and safely. Consider investing in a chimney starter, which uses newspaper and heat to ignite your charcoal without any added chemicals. Or try an electric starter, which uses electricity to light the coals with ease.
By using these alternative methods instead of lighter fluid, you'll not only be taking care of your health and taste buds but also contribute to a more eco-friendly grilling experience overall.
Safety Precautions
Now that you know how to use lighter fluid to start your charcoal grill, it's important to remember that safety should always come first. Charcoal grilling can be a fun and delicious experience, but it also comes with its own set of risks. By taking the proper precautions, you can ensure that your cooking experience is not only enjoyable but also safe.
One of the most important safety precautions when using a charcoal grill is to never leave it unattended while it's in use. Not only could this lead to potential accidents or fires, but it could also result in food being overcooked or burnt.
Additionally, make sure that your grill is placed on a level surface away from any flammable materials such as trees or buildings. It's also important to keep children and pets at a safe distance from the grill at all times.
By following these simple yet crucial safety measures, you'll be able to enjoy all the benefits of cooking with a charcoal grill without any unnecessary risks or hazards.
Preparing the Grill
Before you can start grilling, it's important to properly heat up the coals and give them enough time to ash over. This process ensures even heat distribution and prevents flare-ups that could potentially cause a fire.
To prepare your charcoal grill, first, check for maintenance issues such as loose screws or rusted parts. Then, clean the grates with a wire brush and remove any leftover debris from previous grilling sessions.
Once your grill is cleaned and inspected, it's time to add the charcoal. Fill the chimney starter with charcoal and light from the bottom using newspaper or lighter cubes. Let the coals heat up for at least 20 minutes until they turn grayish-white in color before spreading them evenly across the bottom of the grill.
Remember to keep a close eye on wind conditions, as they can affect how quickly your coals burn down. With these simple steps, you'll be ready to start cooking up delicious meals on your charcoal grill in no time!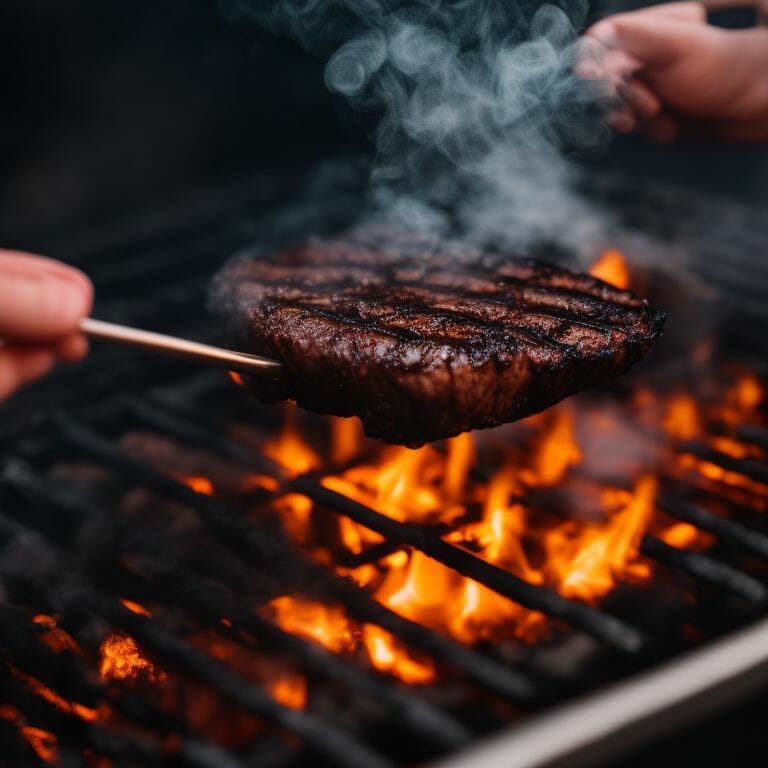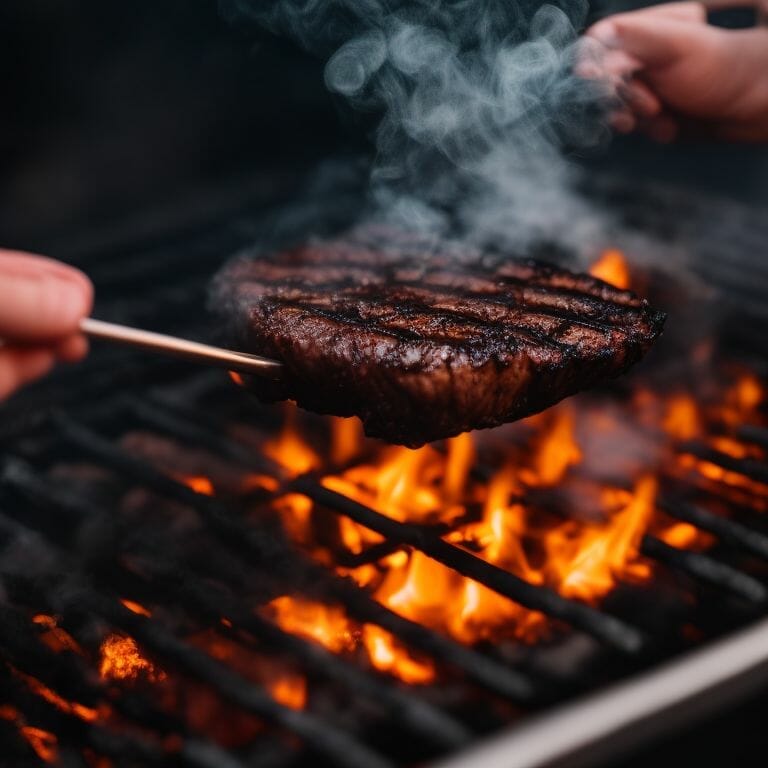 Cooking Techniques
So, you've got your charcoal grill all set up and ready to go. Now it's time to talk about cooking techniques.
Let's start with the basics: direct grilling. This involves cooking your food directly over the heat source, giving it that classic charred flavor and crisp exterior.
But wait, there's more! We'll also cover indirect grilling for slower, more even cooking and smoking for that irresistible smoky taste.
Direct Grilling
Get ready to cook your food directly over the hot coals for that perfectly seared and juicy result. Direct grilling is a classic technique that involves placing your meat, fish, or vegetables directly on top of the charcoal grill grates. This method cooks your food quickly and creates a beautiful sear on the outside while keeping the inside moist and tender.
To achieve direct grilling perfection, follow these tips:
Direct grilling is not only delicious but also easy to maintain with regular cleaning and upkeep of your charcoal grill. So go ahead, fire up that grill, and get ready to impress with those smoky flavors!
Indirect Grilling
You're going to love the juicy and tender results of indirect grilling. This method uses a gentler heat that circulates around the food instead of direct flames, making it perfect for large cuts of meat like roasts or whole chickens. The slow and steady cooking process helps to break down connective tissues, resulting in melt-in-your-mouth tenderness.
One major benefit of indirect grilling is juicier meat. There's less chance of flare-ups that can dry out or burn your food since there are no direct flames touching it. To enhance moisture retention, place a drip pan underneath your meat and add a flavorful liquid like beer or broth.
To master this technique, preheat your grill before placing any food on it. Use a thermometer to monitor the temperature throughout cooking. Also, arrange your coals properly so they're not all concentrated on one side, which can lead to uneven cooking.
With these tricks up your sleeve, you'll be an indirect grilling pro in no time!
Smoking
If you're looking to add a depth of flavor to your meats, smoking is the way to go – it's like adding a secret ingredient that unlocks a whole new level of deliciousness. Smoking involves using wood chips to infuse your meat with smoky goodness. There are various smoking techniques that can be used depending on the type of meat and how much smoke flavor you want.
Here are two sub-lists to help you engage in the art of smoking:
Types of Wood Chips: Different types of wood chips produce different flavors when smoked. For example, hickory chips provide a strong, bold flavor, while applewood chips offer a sweeter taste. Experiment with different types of wood chips until you find the one that best suits your taste preferences.

Hickory

Mesquite

Applewood

Cherrywood

Smoking Techniques: The amount of time and temperature at which you smoke your meat will determine its overall flavor and tenderness. Here are some common smoking techniques to try out:
Cold Smoking: This technique involves smoking the meat at temperatures below 100°F for several hours, resulting in a milder smoke flavor.
Hot Smoking: This method involves cooking the meat at higher temperatures (between 165°F and 225°F) for several hours, producing a stronger smoky flavor and tenderizing the meat.
By mastering these techniques and experimenting with different wood chip flavors, you'll soon become an expert in achieving perfectly smoked meats every time.
Choosing the Right Foods
Choosing the right foods can make all the difference in achieving a delicious and satisfying meal on your charcoal grill. When selecting meats, aim for cuts that are not too thin or too thick. Steaks that are at least an inch thick are the best, as thinner cuts tend to dry out quickly on the grill.
Consider marinating your meats before grilling them to add extra flavor and moisture. A simple marinade of olive oil, garlic, and herbs can do wonders for enhancing the taste of your meats.
In addition to meat, vegetables are also great options for grilling. Choose sturdy vegetables like peppers, onions, zucchini, and eggplant that won't fall apart on the grill. Before grilling them, slice them into even pieces and brush with a little bit of oil to prevent sticking. You can also season your veggies with salt, pepper, or any other spices of your choice for added flavor.
With these tips in mind, create a delicious spread of grilled dishes that will keep everyone coming back for more!
Recipes for Grilling on a Charcoal Grill
Get ready to grill and groove with these great recipes that'll make your taste buds tingle and your heart sing!
Grilling on a charcoal grill is an art form, and mastering the right grilling techniques can take your backyard barbecue to the next level. Whether you're a seasoned pro or just starting out, these recipes will help you create delicious meals with a smoky flavor that can only be achieved with a charcoal grill.
First things first: marinades are key when it comes to grilling on a charcoal grill. Marinades not only add flavor, but they also help tenderize meat by breaking down its fibers.
A simple marinade recipe that works well with chicken, pork, or beef is equal parts soy sauce and olive oil mixed with garlic powder, onion powder, salt, pepper, and any other seasonings of your choice. Another popular marinade recipe is made from lemon juice, olive oil, minced garlic, dried oregano, salt, and pepper; this one works especially well for lamb chops or kebabs.
Once you've got your marinade ready to go, let the meat soak in it for at least 30 minutes before grilling to allow all those flavors to really sink in. With some practice and experimentation with different ingredient combinations, you'll find what suits you best!
Maintaining Your Grill
Now that you've mastered the art of grilling on a charcoal grill and enjoyed some delicious meals, it's important to learn how to properly maintain your equipment to ensure its longevity and continue producing fantastic results. Here are some cleaning tips that will help keep your grill in top shape:
Rust prevention is another crucial aspect of maintaining your charcoal grill. Rust not only affects the appearance of your equipment but also reduces its functional life. To prevent rust, make sure to:
Conclusion and Final Thoughts
After mastering the art of grilling and learning how to properly maintain your equipment, it's essential to remember that rust prevention is crucial for preserving the longevity and functionality of your grill. One tip to prevent rust is to keep your grill covered when not in use. Another is to clean it regularly with a wire brush or scraper. Additionally, applying a thin layer of cooking oil on the grates before each use can help protect against rust.
When it comes to choosing between charcoal and gas grills, there are pros and cons to both options. Charcoal grills offer a smoky flavor that can't be replicated with gas, but they also require more time and effort to set up and monitor during cooking. Gas grills are convenient and easy to use but lack the same depth of flavor as charcoal.
Regardless of which type you choose, hosting a BBQ party with a charcoal grill adds an extra element of excitement and nostalgia. Make sure you have enough charcoal on hand, prepare side dishes in advance, and create a comfortable seating area for guests to enjoy their food.
With these tips in mind, your next backyard BBQ will be one for the books!
Conclusion
Congratulations, you've made it to the end of this article on cooking with a charcoal grill! You now have all the information you need to start grilling up some delicious meals with that smoky flavor we all love.
Cooking on a charcoal grill is an experience like no other, and it's sure to impress your family and friends. To leave you with one interesting statistic, did you know that according to the Hearth, Patio & Barbecue Association, 64% of American adults own a grill or smoker? That's over half of the population!
Grilling is not only a popular pastime but also a great way to bring people together and create memories. So go ahead and fire up that charcoal grill – who knows what kind of amazing meals and moments await you? Happy grilling!