Getting Started with Smoking Meats
Smoking meat is a culinary art that has been practiced for centuries. It involves cooking meat over low heat and smoke, which infuses it with rich flavors and tenderizes the meat. However, for those who are new to this technique, getting started can be overwhelming.
In this article, we will provide a comprehensive guide to help you get started with smoking meats. We will cover everything from choosing the right smoker and essential gear to maintaining your equipment and selecting the best wood for smoking. We will also delve into the world of Texas barbecue and explore different styles of slow-smoked meats such as brisket, pulled pork, and ribs that are available throughout the state.
Whether you're a seasoned pro or a novice, this article aims to provide you with all the information you need to start smoking meats like a professional chef. So sit back, and let's take an in-depth look at how to get started with smoking meats.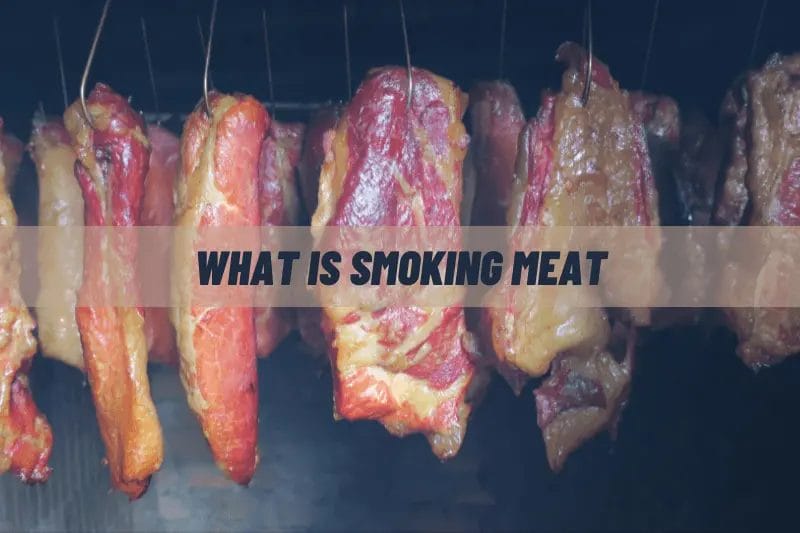 Choose the right smoker
The selection of an appropriate smoker, whether a ceramic, pellet or offset unit, is critical to the success of the smoking process. Each type of smoker has its advantages and disadvantages that can affect flavor and cooking time.
Ceramic units are compact and great for low-and-slow cooking due to their ability to retain heat well.
Pellet smokers automate heat and airflow for quicker results but may sacrifice some smoky flavor.
Offset smokers can be expensive but offer a closer representation of traditional smoking and allow for larger batches.
When choosing a smoker, it's important to consider the heat source as well as the type of smoker. Some prefer propane or electric while others swear by charcoal or wood-burning fires. The choice of fuel will depend on personal preference as well as availability and ease.
Whichever type you choose, make sure you have all essential gear such as temperature gauges, gloves, and a diary to keep track of your progress throughout the smoking process.
Get the proper gear
Acquiring the appropriate equipment is crucial for beginner smokers who want to achieve optimal smoking results. Investing in quality gear may seem like an unnecessary expense, but it can ultimately save time and produce better-tasting meat. Here are four essential items that every beginner should have:
By having these key pieces of equipment, beginners can feel confident in their abilities to smoke meats successfully while prioritizing safety and flavor excellence.
Maintain your smoker
Ensuring proper maintenance of a smoker is crucial for achieving consistent and optimal smoking results. To begin with, it helps to preserve the longevity of the equipment and prevent potential issues during future smoking sessions.
Regular cleaning of the smoker is essential to prevent the buildup of ash, grease, and other debris that can interfere with proper airflow.
Additionally, maintaining a steady smoker temperature is important for even cooking and flavor development. This involves monitoring smoking temperatures regularly using a thermometer, and adjusting airflow as needed to maintain consistent heat levels.
Another key element in maintaining your smoker is choosing the right types of wood for smoking. Different woods have their own unique flavors that can enhance or detract from the taste of the meat.
Most Texans prefer post oak for its mild flavor that complements most meats without overpowering them. It's also important to season your smoker before use and periodically throughout its lifetime to protect against rust and other damage.
Overall, properly caring for your smoker will not only improve the quality of your smoked meats but also ensure that it lasts for many years to come.
Select the best meats
Choosing high-quality meats is essential for achieving delicious and flavorful smoked dishes. When selecting cuts of meat for smoking, it's important to consider the type of meat and its fat content. Here are three key factors to keep in mind when choosing meats for smoking:
Choose fatty cuts: Meats with higher fat content are more forgiving during the smoking process. As they cook, the fat melts and bastes the meat from the inside out, resulting in a tender and juicy dish.
Opt for tougher cuts: Tougher cuts like brisket or pork shoulder require longer cooking times but can be transformed into succulent masterpieces through slow-smoking techniques.
Avoid lean meats: Leaner meats such as chicken or turkey can dry out quickly when smoked at low temperatures over long periods of time. If you do want to smoke leaner meats, consider brining them beforehand to help retain moisture.
Ultimately, experimentation is key when it comes to finding your preferred types of meat for smoking. Don't be afraid to try new cuts or combinations until you find your perfect recipe!
Choose the right wood
The selection of wood for smoking is a critical factor that can significantly impact the flavor and aroma of the final product. Different woods have distinct characteristics that can complement or overpower specific meats, making it imperative to understand their nuances.
For example, fruitwoods like apple or cherry provide a mild sweetness that pairs well with poultry and pork, while hickory and mesquite impart a stronger, smokier flavor that works best with beef.
When choosing wood for smoking, it's essential to consider the type of smoker being used. Wood chunks are ideal for ceramic smokers as they require less airflow and produce more smoke than chips. Pellet grills utilize compressed sawdust pellets that automate heat and airflow, making them compatible with a wide range of hardwoods. Offset smokers require larger pieces of wood like logs or split cordwood to maintain a consistent temperature and generate enough smoke to permeate the meat fully.
By selecting the right wood for smoking in conjunction with the appropriate smoker type, home chefs can elevate their barbecue game to new heights.
##TIP##
Use a digital thermometer inserted into the thickest part of the meat to check for doneness; chicken should be cooked to an internal temperature of 165 degrees Fahrenheit, pork chops should be cooked to 145 degrees Fahrenheit, and ribs should be cooked between 190 and 205 degrees Fahrenheit.
Smoking basics
What are the fundamental principles of smoking meat, and how can home chefs master them to create delicious, flavorful barbecue dishes?
Smoking basics involve understanding the cooking process and using the right tools. First, it is essential to maintain a consistent temperature throughout the cooking process. This means ensuring that there is an adequate supply of fuel or wood chips to keep the smoker burning at a steady temperature. Checking the temperature with a meat thermometer will ensure that your meat reaches its ideal internal temperature.
Next, controlling airflow is crucial in maintaining consistent heat levels and preventing flare-ups. This involves adjusting vents and dampers on your smoker as needed to regulate oxygen flow into the firebox. Additionally, adding water pans can help maintain humidity levels within the cooking chamber.
Lastly, keeping a thin layer of fat on the surface of your meat can add flavor and protect it from drying out during long smoking sessions.
With these fundamentals in mind, home chefs can master smoking techniques for perfectly cooked meats every time.
In summary, mastering smoking basics requires understanding how to control temperature and airflow while monitoring humidity levels within your smoker's chamber. Using tools like a meat thermometer will ensure that your meats reach their desired internal temperatures without overcooking or drying out. Furthermore, maintaining a consistent layer of fat on top of your meats will enhance flavor while protecting them from excessive smoke exposure.
By following these principles, any home chef can become proficient at creating mouthwatering barbecue dishes through the art of slow-smoked meats!
Food smoking for beginners
This section of the article provides an introductory guide for novice chefs interested in exploring the art of smoking meats, offering practical tips and techniques to help master this culinary skill. Smoking food is an age-old technique that imparts a unique flavor to meats, vegetables, fish, and cheese. It's become increasingly popular over the years as more people embrace outdoor cooking and barbecue culture.
For beginners, it's important to prioritize food safety issues. Always ensure that meat is cooked thoroughly, using a thermometer to check internal temperatures. Keep raw meat separate from other foods during storage and preparation to avoid cross-contamination.
Additionally, maintaining proper smoking temperatures is crucial for the safe consumption of smoked foods. Follow recommended temperature guidelines for each type of meat being smoked to minimize any potential health risks associated with undercooked or improperly stored meats.
Frequently Asked Questions
How long does it typically take to smoke meat?
The length of time it takes to smoke meat depends on several factors, such as the type and size of the meat, the smoker used, and the desired level of doneness. Generally, smoking meats is a slow-cooking process that can take anywhere from two hours for small cuts like ribs to 12-18 hours for larger cuts like brisket.
It's important to monitor the temperature throughout the cooking process to ensure that it stays within a certain range. Additionally, some types of wood burn hotter and faster than others, which can affect cooking times.
Overall, successful meat smoking requires patience and attention to detail in order to achieve optimal flavor and texture.
Can different types of wood be used for different meats?
Different types of wood can be used for different meats in smoking. For instance, cherry wood imparts a fruity flavor that is perfect for poultry, fish, and pork.
Hickory wood has a strong and smoky flavor that complements any meat, but it is best suited for beef and pork due to its boldness.
Applewood provides a milder smoke taste that goes well with chicken or turkey.
Mesquite wood is known for its intense smokiness and pairs well with beef brisket or ribs.
Meanwhile, oak wood offers a neutral flavor profile that enhances the natural taste of the meat while adding subtle smokiness.
Ultimately, choosing the right type of wood to use when smoking meat depends on personal preference and what flavors complement each other best.
Is it necessary to use a water pan while smoking?
Using a water pan while smoking is not necessary, but it can be useful in maintaining consistent temperature and humidity.
The water acts as a heat sink, absorbing some of the energy from the fire and helping to regulate temperature fluctuations.
It also adds moisture to the air, which can help prevent meat from drying out during a long smoke.
However, some smokers are designed to function without a water pan, and experienced pitmasters may prefer to rely on other methods for controlling temperature and humidity.
Ultimately, whether or not to use a water pan will depend on personal preference and the specific type of smoker being used.
How often should the smoker be cleaned?
Maintaining a clean smoker is crucial for producing quality smoked meats. The frequency of cleaning depends on several factors, such as how often the smoker is used and the type of meat being smoked. However, it is recommended to clean the smoker after every use to avoid the buildup of creosote, which can affect the flavor of the meat and create a fire hazard.
Cleaning involves removing ashes and debris from the firebox, scrubbing grates with a wire brush or scraper, and wiping down interior surfaces with hot soapy water or vinegar solution. It's important to also check for any damaged or worn parts that need replacing.
By regularly cleaning and maintaining your smoker, you can ensure consistent results and prolong its lifespan.
Are there any specific safety precautions that should be taken while smoking meat?
When it comes to smoking meat, there are certain safety precautions that should always be taken to ensure a successful and safe cooking process.
One important tip is to always use food-grade wood for smoking and avoid using treated or painted wood, which can release harmful chemicals when burned.
It's also crucial to regularly clean the smoker and its components, such as grates and water pans, in order to prevent the buildup of harmful bacteria.
Additionally, it's important to monitor the temperature of both the smoker and the meat being cooked to prevent undercooked or overcooked meat that can lead to food poisoning.
To further ensure safety, use gloves when handling hot equipment or meat and keep children and pets away from the cooking area.
By taking these safety precautions seriously, you can enjoy delicious smoked meats without any health risks.
Conclusion
In conclusion, smoking meat is a revered culinary tradition that requires patience, precision, and passion. The process of slow-smoking meats over wood fires creates succulent dishes that are perfect for any occasion. However, it can be intimidating for those who are new to the craft to get started.
By following the tips and tricks outlined in this article, anyone can become an accomplished pitmaster. Choosing the right smoker is essential for achieving the desired flavor and texture in your smoked meats. Proper gear such as thermometers, tongs, and gloves will make the smoking experience more enjoyable and efficient. Maintaining your smoker regularly will ensure that it lasts longer and produces consistent results. Selecting the best cuts of meat and choosing the right wood for your smoking session will also contribute to a successful outcome.
Ultimately, mastering the art of smoking meat requires practice, perseverance, and passion. But with patience and attention to detail, anyone can create mouth-watering brisket, pulled pork, or ribs that rival those found at famous barbecue joints throughout Texas.
So fire up your smoker today and embark on a journey of deliciousness that will delight both you and your guests!
Many of these recipes take time, but if you follow my step-by-step instructions you'll be well on your way to slow smoking some amazing meats.

https://heygrillhey.com/best-meats-to-smoke/
Last Updated on July 26, 2023 by James Keller