How To Choose The Right Grill: Factors To Consider Before Making Your Purchase
Are you in the market for a new grill but feeling overwhelmed by all the options? Choosing the right grill can be a daunting task, especially if you're not familiar with all the factors to consider before making your purchase. But fear not! In this article, we'll guide you through everything you need to know in order to choose the perfect grill that meets your needs and fits your budget.
First and foremost, it's important to consider what type of fuel you prefer for your grill. Do you want a traditional charcoal flavour, or would you rather opt for the convenience of gas? The type of fuel will affect not only the taste of your food but also the cost and maintenance required for your grill.
Once you've decided on fuel type, it's time to think about the cooking area, additional features like side burners or rotisseries, durability, price range, ease of use, portability, style, and customer reviews. By taking into account all these factors and weighing their importance to you personally, you'll be able to make an informed decision that will have you grilling up delicious meals in no time!
Fuel Type
Now let's talk about what kind of fuel you prefer for your grill. Are you a charcoal lover, or do you prefer the convenience of gas? Both have their own pros and cons when it comes to grilling.
Gas grills are easy to start, heat up quickly, and can be controlled with precision temperature settings. On the other hand, charcoal grills give food a distinct smoky flavour that many people love, but they require more time and effort to get started.
When choosing between propane and natural gas, consider the cost and availability in your area. Propane tanks are portable and can be refilled easily at many stores, while natural gas requires a dedicated line installed by a professional.
Additionally, consider the environmental impact of your fuel choice. Charcoal emits more pollutants than gas grills, so if you're concerned about air quality or want to reduce your carbon footprint, electric or pellet grills may be better options for you.
Ultimately, it's important to weigh all factors before making your decision on which type of grill is right for you.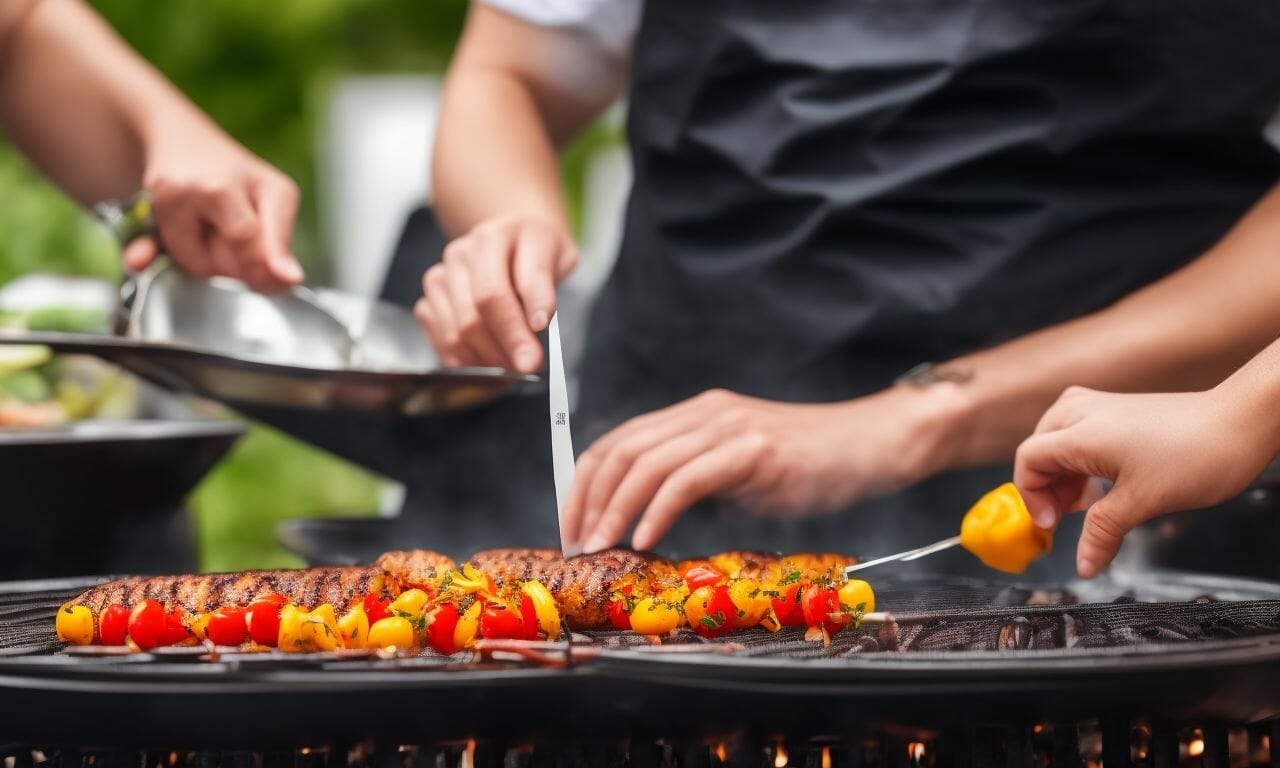 Cooking Area
Looking for a grill that can handle all your cooking needs? Let's talk about the cooking area.
One of the most important factors to consider when purchasing a grill is its size. Size considerations go hand-in-hand with cooking space requirements, as you'll want to ensure that your new grill has enough space to accommodate all the food you plan to cook.
When considering the cooking area of a grill, think about how many people you typically cook for and what types of dishes you like to prepare. If you frequently entertain large groups or enjoy grilling larger cuts of meat, such as whole chickens or racks of ribs, then a bigger cooking surface may be necessary.
On the other hand, if you mostly cook for just yourself or a small group, then a smaller grill may suffice. Additionally, it's important to consider whether you'll need additional features, such as warming racks or side burners, that will take up additional space on the grill surface.
By taking these factors into account, you can ensure that you choose a grill with an appropriately sized cooking area for your needs.
Additional Features
You probably don't need any fancy, unnecessary features on your grill – but let's talk about the rad extras you can add to make your cooking experience more enjoyable.
One thing to consider is the type of materials used in the grill construction. Stainless steel grills are durable and easy to clean, while cast iron grills retain heat well and produce those beautiful sear marks on your meat. Ceramic grills are great for slow cooking and can maintain consistent temperatures for hours. Additionally, some grills come with built-in infrared burners that provide intense heat for quick searing or finishing touches.
Another feature to think about is cooking technology. Some grills come with Wi-Fi connectivity and smartphone apps that allow you to monitor and control the temperature remotely. Others have rotisserie attachments for even cooking larger cuts of meat. Smoker boxes or trays can also be added to impart a delicious smoky flavor to your food without having to purchase a separate smoker.
All in all, these additional features may not be essential, but they can certainly enhance your overall grilling experience!
Durability
To ensure your investment lasts for years to come, it's important to select a grill with durable construction and materials.
Material quality is an essential factor when choosing a grill that can withstand extreme temperatures and regular use. Stainless steel is one of the most popular options due to its rust resistance, making it suitable for outdoor settings. Other materials, such as cast iron and aluminum, are also commonly used, but they require more maintenance compared to stainless steel.
In addition to material quality, weather resistance plays a crucial role in determining the longevity of your grill. Look for grills with heat-resistant paint or powder-coated finishes that prevent rusting and chipping caused by exposure to sun, wind, rain, or snow.
A well-built grill should also have sturdy legs and wheels that can support the weight of the grill without bending or breaking under pressure. By investing in a durable and weather-resistant grill, you're not only making a wise purchase but guaranteeing countless cookouts with your family and friends for years ahead.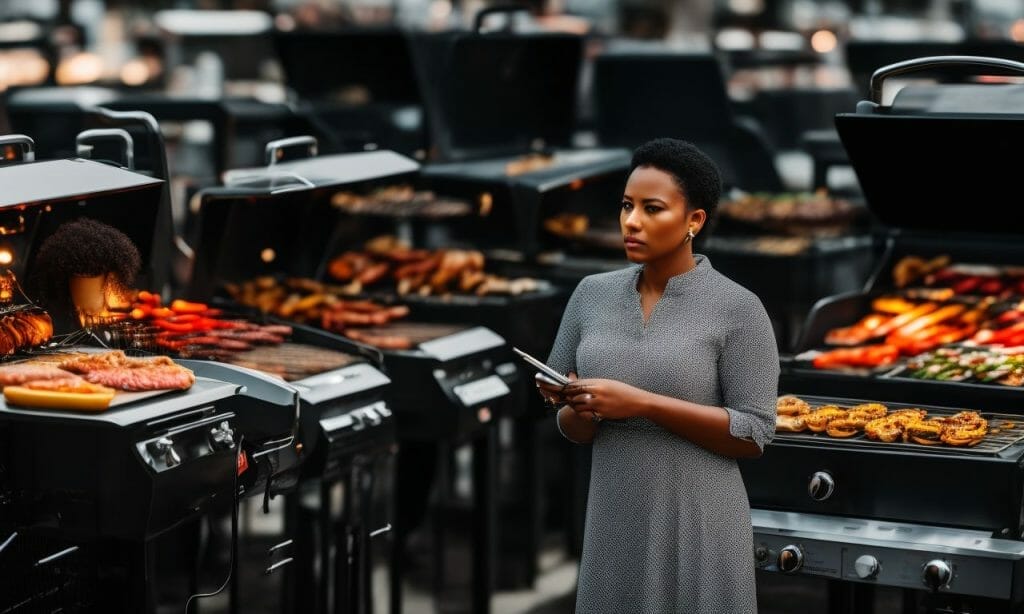 Price Range
When deciding on a grill, it's important to keep in mind that price range is a significant factor that should be considered alongside durability and material quality. You want to make sure you invest your money wisely, considering budget considerations and getting value for your money.
It's no secret that grills come in various prices, from affordable ones to high-end models. However, the most expensive one may not always be the best choice for you.
Before purchasing a grill, consider your budget. How much are you willing to spend? Keep in mind that while it's tempting to go for the cheapest option available, it might not provide you with what you need. On the other hand, going overboard with an expensive grill doesn't necessarily mean it will give you better results than an affordable one.
Look for a balance between affordability and quality – choose a model that fits your budget but still has all of the features you need. By doing so, you'll get value for your money while enjoying delicious meals cooked on your new grill!
Brand Reputation
Now that you've established your price range, it's time to consider another important factor: brand reputation. You want to invest in a grill from a reputable brand that is known for producing high-quality products.
A well-known brand can give you the assurance that the product will be reliable and durable, especially if they've been in business for years. When choosing a brand, don't just look at their products but also their customer service and warranty options.
Good customer service is essential in case something goes wrong with your grill and you need assistance. Check if they offer warranties or return policies so that you can protect your investment in case of any defects or problems.
Additionally, take note of their online presence and social media engagement, as this can indicate how actively involved they are with their community and how responsive they are to customer inquiries or concerns. By considering all these factors, you'll have better chances of finding a trustworthy brand that meets your needs.
Ease of Use
When it comes to choosing a grill, ease of use is a crucial factor to consider. You want a grill that has an ignition system that's easy to operate and gets your fire started quickly.
Temperature control is another important aspect. It allows you to cook your food evenly without burning it.
Finally, cleaning and maintenance are key factors. Look for grills with removable parts that are easy to clean and maintain.
Ignition System
To ensure a hassle-free grilling experience, you'll want to opt for a grill with an easy-to-use ignition system that suits your preferences. There are various types of ignitions available, each with its own set of pros and cons. Here are three sub-lists to help you choose the right one:
Consider your needs before choosing an ignition system. If you're looking for convenience, push-button or electronic ignitions may be best. If you prioritize taste over speed, a charcoal chimney starter may be worth considering.
In summary, choosing the right ignition system can greatly impact your overall grilling experience. Understanding the pros and cons of each type will help you make an informed decision based on your preferences. Keep in mind that reliability, convenience, and taste should all factor into your decision-making process when selecting an ignition system for your grill.
Temperature Control
Controlling the temperature of your grill is crucial for achieving perfectly cooked and flavorful food, so it's important to understand the different methods available.
There are two main ways to regulate the temperature of your grill: by adjusting the vents or using a built-in thermostat.
If your grill has adjustable vents, you can control the amount of oxygen getting to the fire, which in turn affects how hot the grill gets. Open vents allow more oxygen to reach the fire, making it hotter, while closing vents restrict airflow and lower the temperature. It's important to remember that opening and closing vents can take a few minutes to have an effect on temperature, so be patient when making adjustments.
On the other hand, if your grill has a built-in thermostat, you can set a specific temperature and let it do all the work for you. However, keep in mind that these grills tend to be more expensive and may require more maintenance than those with adjustable vents.
Properly maintaining your grill is also crucial for accurate temperature regulation. Make sure to clean out any excess ash or debris from previous grilling sessions before starting up again, as this can impact airflow and cause uneven heating. Additionally, regularly checking and replacing any worn-out parts, such as burners or thermometers, can ensure consistent temperatures every time you use your grill.
Cleaning and Maintenance
Now that you know how to control the temperature of your grill, it's time to learn about proper cleaning and maintenance. Keeping your grill clean not only helps it last longer but it also ensures that your food tastes better.
To start, invest in some good cleaning products specifically designed for grills. These will make the job easier and more effective. It's important to have a regular maintenance schedule for your grill as well. This includes things like regularly checking and cleaning the burners, grease trays, and cooking grates.
Additionally, using a grill cover when not in use can protect it from the elements and prevent rust from forming on metal parts. By following these simple steps, you can extend the life of your grill while also ensuring delicious meals every time you fire it up!
Portability
If you're looking for a grill that's easy to move around, portability is key. When considering the weight of your grill, keep in mind how often you'll be moving it and if you have help available.
Wheels can make a big difference in maneuvering your grill, especially if you plan on taking it to outdoor events or storing it away when not in use. Additionally, handles are important for lifting and carrying your grill, so make sure they're sturdy and comfortable to grip.
Weight
As you peruse the grills, keep in mind that weight can play a role in your decision-making process; after all, you don't want to be dragging around a behemoth while trying to enjoy your summer cookouts.
When it comes to weight, there are two factors to consider: portability and durability. If you plan on moving your grill around frequently, then portability is key. A lightweight grill with wheels will make it easier for you to move it from one spot to another without exerting too much effort.
However, if you prioritize durability over portability, then weight may not be as big of a concern. Heavier grills tend to be sturdier and more stable than their lightweight counterparts. These types of grills are often made from high-quality materials that can withstand harsh weather conditions and long-term use.
Additionally, heavier grills usually offer larger cooking areas which means more room for food and less need for frequent batch cooking. Ultimately, the decision between a heavy or light grill comes down to personal preference and how you plan on using it.
Wheels and Handles
Don't miss out on the convenience of easy transportation and manoeuvring with a grill that has sturdy wheels and comfortable handles.
When choosing a grill, it's important to consider how easily you can move it around. Look for models with large, durable wheels that can handle rough terrain or uneven surfaces. This will make it easier to transport your grill to different locations, whether you're moving it from storage to your patio or taking it on a camping trip.
Additionally, pay attention to the assembly process and how easy it is to attach the wheels and handles. Some grills may require more time and effort than others to put together, so be sure to factor this into your decision-making process.
Once assembled, make sure the handles are comfortable to grip and positioned in such a way that allows for easy maneuverability when pushing or pulling the grill.
With these factors in mind, you'll be able to choose a grill that not only cooks great food but also makes your life easier when transporting and using it.
Style
When it comes to picking out a grill, the style you select can say a lot about your personal taste and outdoor aesthetic. Design preferences and aesthetics play an important role in choosing the right grill for your home.
Some people prefer sleek and modern designs, while others opt for more traditional or rustic styles. Consider what type of outdoor space you have and how your grill will fit into that space.
In addition to design preferences, think about whether you want a grill that is suitable for indoor/outdoor compatibility. If you plan on using your grill both indoors and outdoors, look for one with wheels or handles that make it easy to move around. You may also want to consider the size of the grill if you plan on using it inside – smaller grills may be more practical for indoor use.
By taking these factors into consideration, you can choose a style of grill that not only fits your personal taste but also meets your practical needs.
Customer Reviews and Recommendations
Now that you've considered the style of grill that suits your needs, it's time to look at what other people are saying about it.
Customer reviews and recommendations can provide valuable insights into a product's performance, durability, and ease of use. So before making a purchase, take some time to read what others have experienced with the grill you're considering.
When reading reviews, pay attention to comments on grill maintenance and user experience. A grill that's difficult to clean or has complicated controls may not be worth the investment in the long run. On the other hand, a grill that's easy to maintain and use will make your outdoor cooking experience more enjoyable.
Additionally, take note of any recurring issues or complaints mentioned by multiple reviewers, as this could indicate a potential problem with the product.
By taking customer feedback into consideration, you can make an informed decision about which grill will best suit your needs and preferences.
Conclusion
So, you've taken into consideration all the factors mentioned in this article and have finally narrowed down your search for the perfect grill. But before making your final purchase, it's important to investigate the truth of a theory that can help provide a visual representation of your ideas.
One way to do this is by looking at customer reviews and recommendations online. See what others have said about their experience with the grill you're interested in. Did they notice any flaws or issues that weren't mentioned in the product description? Were they satisfied with their purchase, and would they recommend it to others? These are all important questions to consider before making a decision.
In conclusion, purchasing a grill can be an exciting but overwhelming process. By taking into account factors such as fuel type, cooking area, additional features, durability, price range, ease of use, portability, style, and customer reviews/recommendations, you'll be able to confidently choose a grill that will suit your needs and preferences.
Remember to also investigate theories through customer reviews and recommendations so that you can make an informed decision on which grill is right for you.
Happy grilling!